Kerry Haney was relaxing at her home in New Jersey one night in late September when all of a sudden, she started getting dozens of calls, texts and Facebook notifications. Her community knows Haney as an avid volunteer with Don't Bully Us Rescue and an animal lover and rescuer in general — and everyone was contacting her to alert her to a dog in an unbelievably awful situation.
"I received six phone calls, a dozen or so text messages and hundreds of [Facebook] tags about a dog, padlocked to a tree in Swedesboro, starving to death," Haney told The Dodo. "His head was padlocked in a position that he could not move his head an inch. There was no food, no water and he was sitting in his own feces and urine. In my pajamas, I went out to the address that was sent to me to see if this dog was in fact out there and if there was any chance I could speak with the family to see if I could help."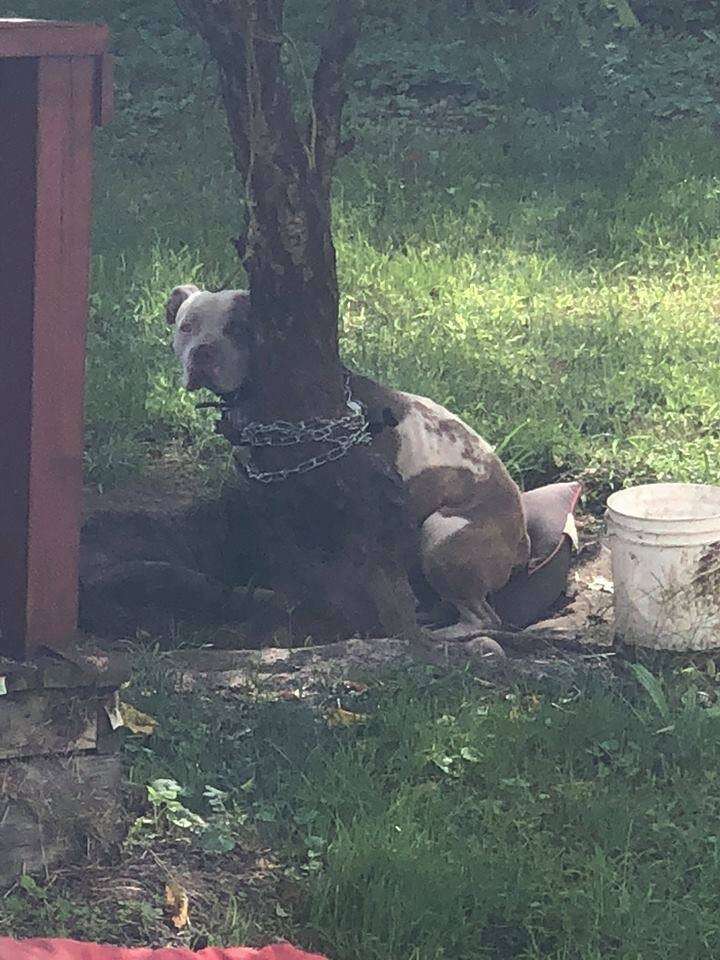 In the middle of the night, Haney went out to check on the dog everyone was so concerned about, but when she arrived she couldn't see any dog outside. She contacted the the Woolwich Township Police Department to tell them about the dog everyone had seen, and found they were already aware of the situation and were doing everything they could to ensure that the dog was safe.
"It was a bit painful only because we had to kind of sit in the dark for a few days while the police carefully did what they needed to do to pull the dog from the owner," Haney said.
Later that week, though, Max the pit bull was finally removed from his home and taken to Gloucester County Animal Shelter, where he was cared for until a court hearing on October 6. His owner was found guilty and fined, and Max was officially surrendered to the shelter.
Don't Bully Us Rescue wanted to take Max into its care immediately, but at first, it seemed as if Gloucester County Animal Shelter was planning on keeping him. After Max tested heartworm positive and failed a few of the shelter's basic behavioral tests, though, they reached out to the rescue to see they could take him so he could get more personalized care, and, of course, the rescue happily agreed.
Since Haney was a large part of Max's initial rescue, it was decided that she would be the one to foster him. Excited to help give him a second chance at life, she readied her home for him and was finally able to pick him up and bring him home last Saturday. While the shelter seemed to think Max might be aggressive, Haney has since realized that Max is really a sweet, wonderful guy who just doesn't fully know how to be a dog yet.
"Max is a puppy in a big boy's body," Haney said. "He clearly never got to play as a puppy, so he has all the [same] puppy energy and playfulness as a 16-week-old pup! He has no manners yet, but we are working on it."
Max clearly had spent so much time being chained up and unable to move around or play at all that he was never able to fully enjoy life or learn basic skills. Now that he's free and in a loving foster home, Haney and her family are doing everything they can to teach Max the ropes, and show him just how wonderful life can be.
So far, Max has been getting along well with Haney's other two dogs, and absolutely adores all people he comes into contact with. He especially loves kids, and Haney believes it's because his previous home had two young kids, and he misses them very much.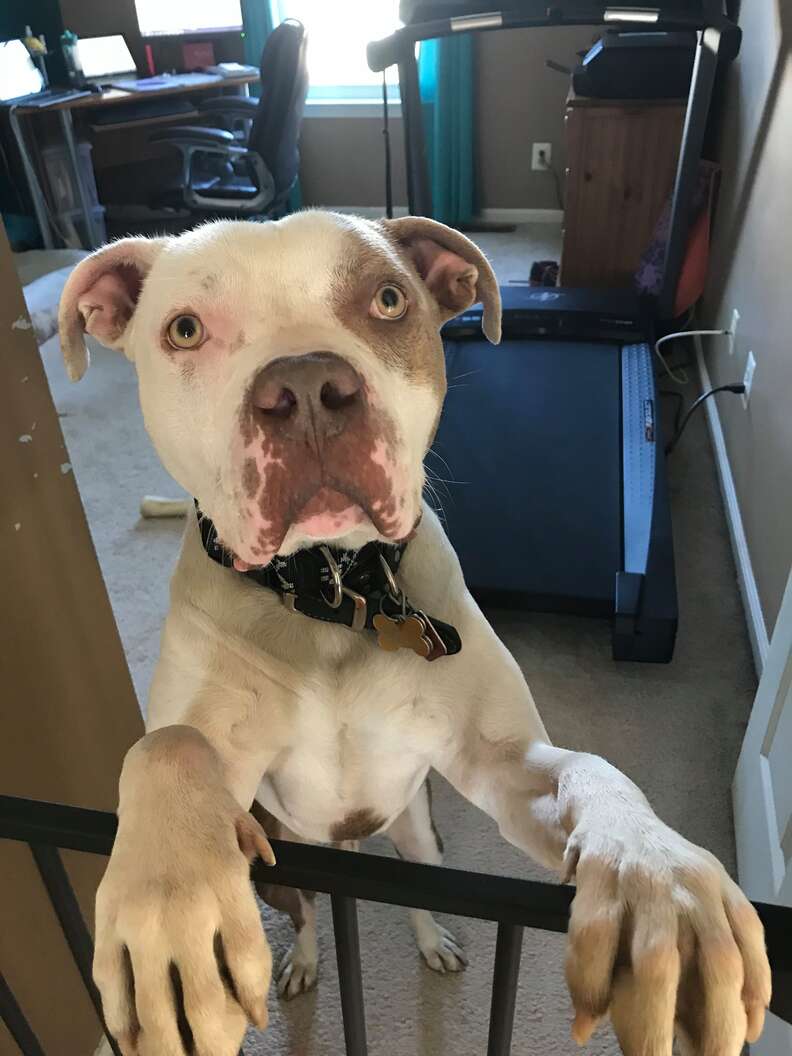 "He's a goofy big pup," Haney said. "He loves to play … more than any dog I've ever seen. And if you are sitting on the floor or couch, don't think you'll have any personal space. He will be on you in the drop of a dime. He hangs with me in my office every day. He just chews on his bone while I work and he never barks at the mailman or kids passing by. He is an absolute pleasure to have!"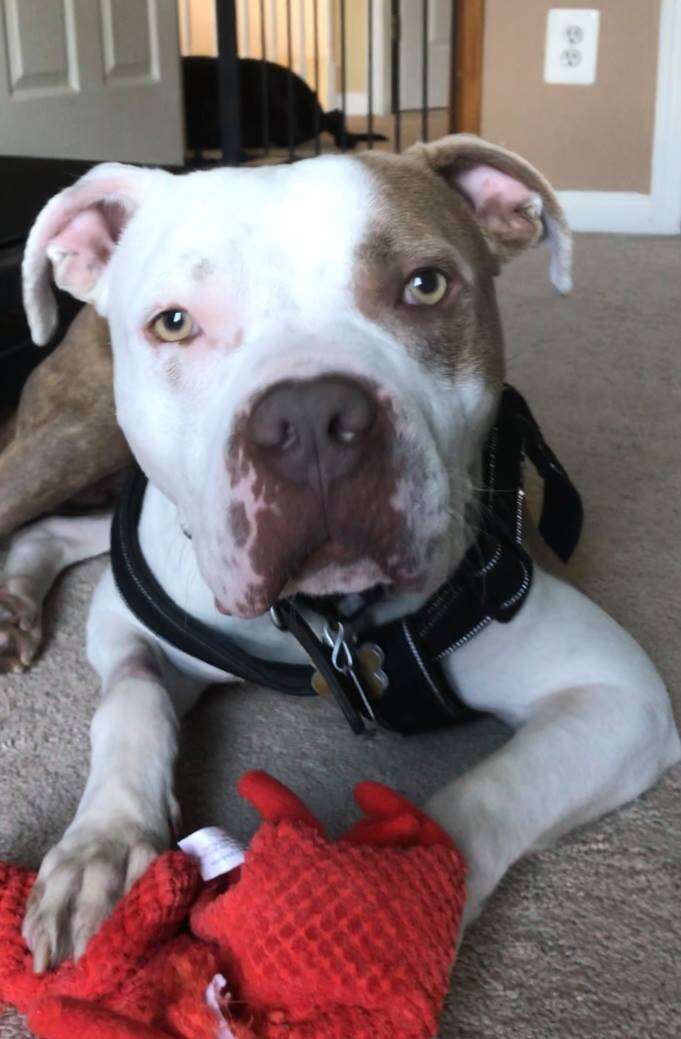 For his future forever home, Max would love an active family who would be willing to take him on lots of walks and runs and play with him for hours until he's finally ready to curl up and cuddle with you. After being neglected for so long, all Max really wants now is a family who will love him unconditionally, and everyone who has met this incredible dog can't wait for him to finally find that.
"He just really loves to be with people," Haney said. "It's sad to think he was tied to a tree with no one, all day, every day. That was his yesterday … but his future is full of people and love. That is a promise!"